Hill Country History
Wimberley offers 'a little bit of Heaven' in the Hill Country. Mentioned earlier in our Hill Country Destinations article, Wimberley, TX provides a unique getaway solution. As a result, Wimberley offers many things to do for couples, individuals and families.
History runs deep in the Texas Hill Country. Towns and cities formed from geographical features, proximity to resources and food, and common beliefs. As a result, settlers developed the tools and infrastructure needed to survive.
In 1856, William Carvin Winters built 'Winters' Mill', then sold the mill to the Cude family in 1864. In 1874, Pleasant Wimberley acquired the mill and the settlement took on the name 'Wimberley Mill'.
Although the mill itself closed in 1925, a few pieces of the old mill remain as well as Winters' home, which now serves as a local museum. On January 19, 1880, Alfred vom Stein applied to have a post office established in the community, calling it "Wimberleyville". The application was granted, but the name shortened to Wimberley.
---
How do you creatively express 'Wimberley – a little bit of Heaven'?
You build a 'boot tour'!
The 'Bootiful Wimberley' boot tour is a unique combination of local folk art and bill boards that only exists in Wimberley, TX. Harnessing the colors, sights and culture of the Texas Hill Country, the artists find creative ways to highlight the sponsors.
Many of the boots are within walking distance of each other. Getting to all of them in a day will be a difficult challenge, so why not spend a few days exploring!
With nearly 50 boots to explore, we're confident you'll find at least one to enjoy. Our favorite – 'Hill Country Sunset' (number 15 on the map)!
---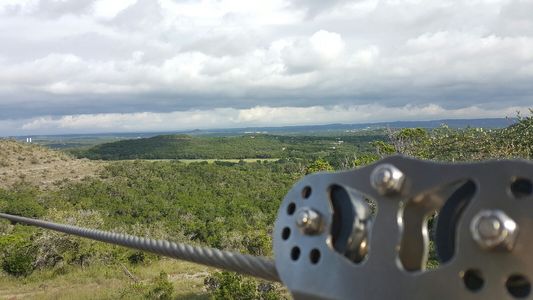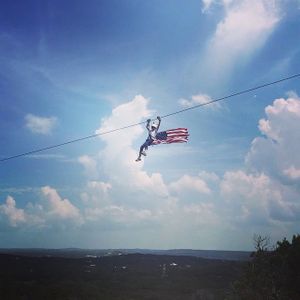 The Wimberley Zipline combines spectacular scenery, speed, fun and adventure for a ride-of-a-lifetime!
With 10 lines connected through a series of short hiking trails, riders let gravity do the work! The Texas Hill Country is best experienced at 30 miles per hour and a few hundred feet off the ground.
The Wimberley Zipline is a valued Hill Country Premier Lodging Advantage Partner! Advance reservations are strongly recommended, as well as reviewing restrictions for the Wimberley Zipline.
An added bonus, at the end of the tour – a genuine Biergarten (beer garden)! Plenty of local beer, wine, sodas and other beverages are available.
---
Wimberley, TX delivers small-town charm and shopping experiences. Boutique shops range from clothing, kitchen items, wines, flowers, popcorn and even Hill Country patio seats! If you can imagine it, the shops at Wimberley Square probably has a store for you!
Your best bet is to arrive early to find a parking place. Then, find a tea or coffee shop for a bit of caffeine and bite to eat. After that, wander! The friendly local folks will be more than happy to you find the perfect gift or memento. There are multiple options for lunch as well. Once your tummy is full, burn those calories off and walk around the other half of the shops!
At this point in the day – you deserve a break! The Wimberley Square hosts several bars, watering holes and wine tasting rooms to help take the edge off.
---
Time to Relax
Two watery elements also help define 'Wimberley – a little bit of Heaven'.
Blue Hole Regional Park is located very close to Wimberley Square. This local swimming hole is fun for all ages.  The clear, slow moving water helps cool folks off during hot summer months. This property was protected by the Friends of Blue Hole from residential development back in early 2000 and has continued its mission of connecting folks with fun and nature.
Feeling more adventurous? Stop by Jacob's Well! This karstic spring remains at 70 degrees all year. Visitors are welcome to jump into the water (at their own risk!) and have an amazing time. The well extends down more than 140 feet. If you want to go diving, you'll want to check with the Parks' department first for proper permitting.
---
Places to stay
The absolute best way to make your stay in Wimberley memorable is to work with a premier Hill Country Lodging company. These folks have unique knowledge of the area and will help find the accommodations for you and your family. Whether you are looking for a secluded cabin for two or a mega-home for twenty, a little research will go a long way.